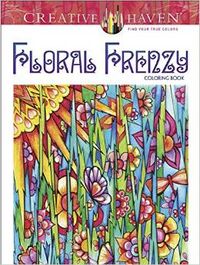 BACK
FLORAL FRENZY
Hearts brimming with flowers, blossoms dripping with water, petals swirling together like the galaxy, and more.
31 surrealistic designs of abstract gardens and fantastical bouquets will inspire hours of experimental coloring. Pages are perforated and printed on one side only for easy removal and display. Specially designed for experienced colorists, Floral Frenzy and other Creative Haven® coloring books offer an escape to a world of inspiration and artistic fulfillment.

Miryam Adatto was born and raised in Colombia, South America. She attended the Art Institute there before marrying and moving to the United States. For the last 30 years, Miryam has been teaching ceramics and art with different media to children in the South Florida area. Her previous coloring books rank among Dover's top-selling titles.
More like this