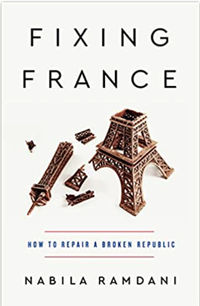 BACK
FIXING FRANCE
How To Repair a Broken Republic
The first book by a fresh new voice in international journalism, FIXING FRANCE is a probing exploration into exquisite myths and failing ideals that are barely holding France together.
It starts with the premise that the country was founded as a direct response to civil war in its largest colony, Algeria. Ramdani, like many, wants a better France, but she thinks that to get one, you have to scrap the fifth republic, essentially unchanged since 1598. Drawing on strong reporting, and addressing the lingering consequences of colonialism, FIXING FRANCE presents a well-rounded narrative of modern France and its troubles, as well some thoughtful solutions for building a more democratic France that are sure to provoke discussion and provide excellent material for original opinion pieces, excerpts and commentary during publicity and promotion.

Once a romanticized beacon of democracy, culture, and the arts, France has slowly slid further and further away from its historic image of life, liberty and fraternity. The country is on the brink. With a precarious labor force facing dwindling wages, a right wing political surge that has resulted in drastic acts of Islamaphobia and Anti-Seminitism, and a media increasingly led by government cronies, France has entered an unprecedented era of social, political and economic turbulence. So, where is France heading, who runs it, and why does it matter?

French-Algerian journalist, Nabila Ramdani, gets to the very heart of a declining France racked with division. From the rise of Marine Le Pen to the segregated suburbs to the growing educational divide and wealth disparity, Ramdani offers a compelling and original critique of contemporary France. Deeply reported, the book is filled with interviews with senior public figures, including all the Presidents of the 21st Century, as well as with numerous ordinary French people who feel excluded by the powerbrokers and from the establishment institutions that run their lives. Yet, while Ramdani follows France's historical tradition of dissent, she simultaneously acknowledges that there is much to be hopeful about. What emerges is a true portrait of a country undergoing dramatic change and upheaval.

Nabila Ramdani is a French-Algerian journalist, broadcaster and academic who specialises in French politics, Anglo-French issues and the Arab and Muslim Worlds. Educated at Paris University and the London School of Economics and Political Science (LSE), she started her academic career teaching at Jesus College, Oxford University, in the U.K., and the University of Michigan, Ann Arbor, in the USA. Nabila holds an MPhil from the LSE in International History, specialising in the Middle East and North Africa, an MPhil from Paris VII University in British and American History and Literature, and an Agrégation (France's highest teaching qualification) in English.

Weblink:
http://www.nabilaramdani.com/


More like this