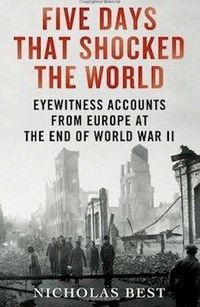 BACK
Five Days That Shocked The World
An Oral History of Europe at the End of World War Two
April 1945. Dragged from his mistress's bed, Benito Mussolini is taken outside and shot by Italian partisans. Two days later, Adolf Hitler discusses lipstick and dog breeding with his secretaries over a last meal of spaghetti and salad. All over Europe, the white flag is flying as Hitler puts a gun to his head and the most disastrous war in human history draws to a close.
This is the story of five momentous days at the end of the war, from the execution of Mussolini and the surrender in Italy to the announcement on German radio that the Führer had fallen at his post, fighting to his last breath against Bolshevism. Everyone remembered where they were when they learned of the dictators' deaths, from Jack Kennedy at the UN conference in San Francisco to Bob Dole near death himself in an Italian hospital and Private Henry Kissinger, back on German soil for the first time since his family fled Nuremberg before the war. Aleksandr Solzhenitsyn was in a Moscow prison, Roman Polanski was playing with grenades on the streets of Krakow and the future Pope Benedict was on his way home, terrified that he might yet be shot for deserting from the Wehrmacht.
Hitler's sister Paula was in tears at Berchtesgaden. Audrey Hepburn was in Holland, delighted that she no longer risked being put to work in a Wehrmacht brothel. Drawing on a wealth of unfamiliar material, Nicholas Best tells a compelling tale of the men and women across Europe who heaved a collective sigh of relief as the news they had all been waiting for came over the radio – that the two dictators, the most hated men in the world, were dead at long last.

Weblink:
http://www.andrewlownie.co.uk/authors/nicholas-best/books/five-days-that-shocked-the-world-an-oral-history-of-europe-at-the-end-of-world-war-two


More like this