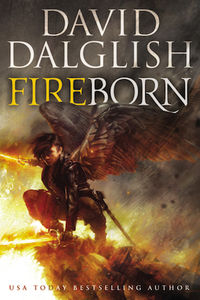 BACK
FIREBORN
The next novel in the Seraphim series following Skyborn from USA Today bestselling author, David Dalglish.
Bree and Kael Skyborn have seen their island invaded, their Seraphim disbanded, and their royal family imprisoned.

A rebellion grows from the ashes, demanding Bree to be their Phoenix, their symbol against Center's tyranny, and for Kael to find the doomsday prophet Johan and sway his cult to their side.

Should they fail, the hope of their rebellion fails with them.

David Dalglish currently lives in rural Missouri with his wife Samantha, and daughters Morgan and Katherine. He graduated from Missouri Southern State University in 2006 with a degree in Mathematics and currently spends his free time wondering how his seven-year-old is so much better than him at Minecraft.

Weblink:
http://www.hachettebookgroup.com/titles/david-dalglish/fireborn/9780316302739/


More like this