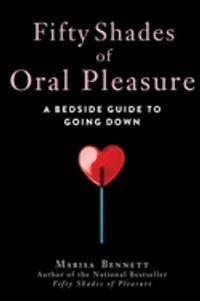 BACK
FIFTY SHADES OF ORAL PLEASURE
A Bedside Guide to Going Down for Him and Her
In a time when taboo erotica novels are replacing the books on our coffee tables, it's no wonder that couples are exploring the naughtiest sides of sex, from silk ties and whips to candle wax and ben wa balls. But what about kink's greatest predecessor, its founding father--the blow job?
Oral sex has been one of the hottest ways to get off since the invention of the mouth, so what better way to get back to your roots and perfect your tantalizing techniques? This sexy how-to guide takes you through the Hers, His, and Us approaches to oral bliss. Get a sexy re-education on anatomy, build your oral arsenal for the most earth-shattering orgasms, bring in the kink, and try new oral positions with the help of some artfully drawn sketches. For foreplay or for your play, read some of the steamy erotica excerpts of oral sex that have been included to get you both riled and ready!
Marisa Bennett takes you down lust-paved roadways to erotic oral play and beyond. This enthusiastic, witty, and sexy road map will bring you to the best oral sex you are about to have!

MARISA BENNETT is a romance novel aficionado with an English degree and a definite kinky side! She is the author of the recent bestsellers 50 Shades of Pleasure: A Bedside Companion and Fifty Shades of Ecstasy: Fifty Secret Sex Positions for Mind-Blowing Orgasms, as well as some embarrassing fan-fiction that may or may not be floating around the Internet. Her hard limits include ice cream with nuts and skydiving. She now lives with her husband in Minnesota.
More like this