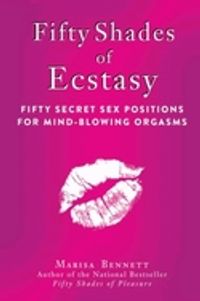 BACK
FIFTY SHADES OF ECSTASY
FIfty Secret Sex Positions for Mind-Blowing Orgasm
If the latest wave of popular erotic romance has gotten your mo tor running, this book will shift you into high gear!
Author Marisa Bennett steps up again to give you the details on doing the horizontal hula, with wit, humor, and some hot new moves. This guide will help you expand your sexual repertoire and hone your sexytime skills while exploring ecstasy in fifty (count 'em, fifty!) different ways. You'll learn a ton of fun and sexy positions like the visually-stimulating Pin-Up Girl, the cozy Lock and Key, and the hot and creative Bobsled (also known as "sledding on Bob"), each one beautifully illustrated to help make sure you've got every thing in the proper place. So what are you waiting for? Whether you are single and ready to (co)mingle or married and want to put some new moves into your old routine, pick up this hot how-to and kick your sexcapades up to the next level with fifty new ways to get it on.

MARISA BENNETT is a romance novel aficionado with an English degree and a definite kinky side! She is the author of the recent bestsellers 50 Shades of Pleasure: A Bedside Companion and Fifty Shades of Ecstasy: Fifty Secret Sex Positions for Mind-Blowing Orgasms, as well as some embarrassing fan-fiction that may or may not be floating around the Internet. Her hard limits include ice cream with nuts and skydiving. She now lives with her husband in Minnesota.

Weblink:
http://www.skyhorsepublishing.com/book/?GCOI=60239108133860&


More like this