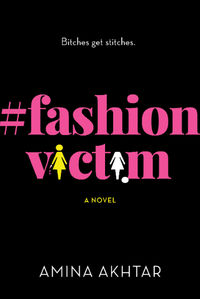 BACK
#FASHIONVICTIM
Meet Anya St. Clair: aspiring fashion editor, style maven, velvet-rope VIP, Instagram trendsetter, social media chameleon, moonlighting serial killer. She never goes anywhere without her lipstick, phone, credit cards and switchblade (pearl-handled, naturally). Fashion faux-pas can prove to be fatal to anyone who is unfortunate enough to clash with her aesthetic or get in the way of her ambition for the top of the masthead at Vie, the ne plus ultra of fashion magazines. But when her BFF becomes top competition, friendly competition quickly turns fatal. #FashionVictim is delectably dark, clever, brilliant: American Psycho meets The Devil Wears Prada for the millennial generation.
Fashion editor Anya St. Clair is on the verge of greatness. Her wardrobe is to die for. Her social media is killer. And her career path is littered with the bodies of anyone who got in her way. She's worked hard to get where she is, but she doesn't have everything.

Not like Sarah Taft. Anya's obsession sits one desk away. Beautiful, stylish, and rich, she was born to be a fashion world icon. From her beach-wave blonde hair to her on-trend nail art, she's a walking editorial spread. And Anya wants to be her friend. Her best friend. Her only friend.

But when Sarah becomes her top competition for a promotion, Anya's plan to win her friendship goes into overdrive. In order to beat Sarah she'll have to become her. Friendly competition may turn fatal, but as they say in fashion: One day you're in, and the next day you're dead.

Amina Akhtar is a former fashion writer and editor. She's worked at Vogue, Elle, Style, NYTimes.com, and NYMag.com, where she launched The Cut blog. She's written for numerous publications, including Yahoo Style, Fashionista, xoJane, Refinery29, Billboard, and for brands like Bergdorf Goodman and H&M's 10 Years of Style tome. After toiling in the fashion ranks for over fifteen years, she now writes full time in the desert mountains, where she's detoxing from her once glam life. #FashionVictim is Amina's first novel.
More like this