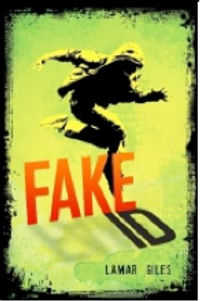 BACK
FAKE ID
Nick Pearson is hiding in plain sight...out of necessity. Can he keep it up when his friend Eli turns up dead? And not just dead...but murdered? A compelling thriller full of twists and turns from debut author, L.R. Giles--the teen Walter Mosley. Fake ID is an Amistad co-pub. Fans of James Patterson, Harlan Coben, and John Grisham will eat Fake ID up!
My name is not really Nick Pearson. I should not tell you where I am from. I should not tell you why my family moved to Stepton, GA. I should not tell you who I really am, or my hair, eye, and skin color. And I definitely should not tell you about my friend Eli Cruz and the major conspiracy Eli was about to uncover when he died – right after I moved to town. About how I had to choose between solving his murder with his hot sister Reya and "staying low- key" like the Program has taught me. About how moving to Stepton changed my life forever. But I am going to.

Debut author L.R. Giles takes readers on a wild and dark ride in this contemporary Witness Protection thriller.

Lamar "L. R." Giles writes stories for teens and adults. He has never met a genre he did not like, having penned science fiction, fantasy, horror, and noir thrillers, among others. He is a Virginia native, Hopewell High Blue Devil, and Old Dominion University Monarch. He resides in Chesapeake, Virginia with his wife.

Weblink:
http://www.lrgiles.com/


More like this