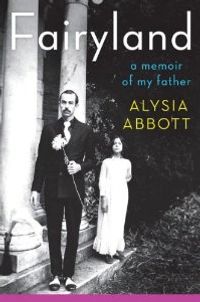 BACK
FAIRYLAND
A Memoir of My Father
Fairyland is a portrait of a vanished scene, San Francisco's vibrant, improvised 70's, from a point of view available to few, that of the child of a man who was coming out then.
Alysia Abbott grew up the lone child of Steve Abbott, a beloved gay poet from San Francisco's 1970's literary community. Steve adored and doted upon his daughter, but he was a single dad in an era long before openly gay fathers were familiar to anyone, without much support.

As you will see, Alysia had a dream of another, more conventional, life, and for years she attempted to keep her father in the same closet from which he had liberated himself. It was around when she returned, during her college years, to San Francisco in order to take care of Steve that she began to "come out of the closet." By then, he was dying of AIDS. Alysia writes with the love, the regret, and the acute vision, of the daughter that she is. Fairyland reconstructs her father's life, and revisits a relationship that remains dynamic, thanks partly to her continuing discovery of his work. It is an intelligent and moving portrait of a world, and a life, that have disappeared: a fine tribute from this daughter to this poet and father. His poems and journals were filled with her, and now she is returning the devotion.
More like this