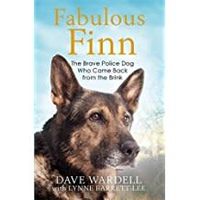 BACK
Fabulous Finn
The Brave Police Dog Who Was Stabbed and Came Back from the Brink
Hertfordshire, October 5th 2016. At around 2 am, PC Dave Wardell and his dog, PD Finn, were trying to apprehend a robbery suspect when Finn was seriously injured, sustaining near-fatal wounds to both his chest and his head. Having undoubtedly saved his handler's life that fateful night, the race was then on to try and save Finn's...
Dave Wardell's memoir, Fabulous Finn, charts an incredible journey. From near death, through a complicated four hour operation, to the anxious hours and days when Finn fought for his life, and, finally, to the day when, recovered from his horrific injuries, Finn was back on the job and delivering his first catch.
It is, however, so much more than that. Spanning the period between the attack and Finn's triumphant return to service, Finn will also look back on his and Dave's lives and escapades, examining the relationship between one man and his dog, from when Dave collected Finn from his kennels, at just 9 months old, to the passing out parade that saw them partnered up professionally. (They've been together seven years now, and have spent more time together than Dave has with his wife.)
Fabulous Finnalso charts the career of a singular, highly trained, highly decorated dog; in his time on the job he's tracked offenders of all kinds, once for over four miles, once for over two hours - long after everyone else had given up. He's found missing children and missing adults – some intent on suicide - tackled armed offenders, and put violent partners behind bars, so that their victims could again sleep at night. He's tracked down both burglars and the property they've stolen – in one case, of a celebrated Hollywood actor, after the crew of the expensive helicopter deemed the area already cleared. Every piece of stolen loot was returned.

Weblink:
http://www.andrewlownie.co.uk/authors/david-wardell/books/fabulous-finn-the-brave-police-dog-who-was-stabbed-and-came-back-from-the-brink


More like this