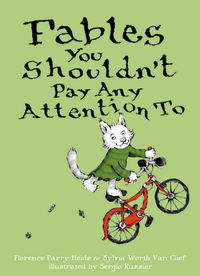 BACK
FABLES YOU SHOULDN'T PAY ANY ATTENTION TO
In this new edition of the classic companion to Tales for the Perfect Child, Sergio Ruzzier lends his signature humor to Florence Parry Heide and Sylvia Worth Van Clief's delectably subversive fables.
Genevieve is careless.
Muriel is discontented.
Phoebe is always putting off until tomorrow what she should be doing today.
And Chester is the laziest turkey you ever heard of.

Caleb and Conrad, on the other hand, are polite and kind and thoughtful and gracious and truthful. But some good that does them!

If the morals you find in these pages aren't exactly, well, moral…just don't pay any attention to them!


Florence Parry Heide (1919–2011) was the author of more than 100 children's books, including picture books, juvenile novels, two series of young adult mysteries, plays, songbooks, and poetry. She may be best remembered for her now-classic The Shrinking of Treehorn and its two sequels, illustrated by the great Edward Gorey. Florence grew up in Punxsutawney, Pennsylvania, married during the second world war, and spent her adult life in Kenosha, Wisconsin, with her husband and five children, all of whom grew up listening to the joyful sounds of an old typewriter.
Sylvia Worth Van Clief (1920–1974) collaborated with Florence Parry Heide on hundreds of songs for both children and adults, as well as many books, including a series of sports-themed young adult novels and several titles in the Spotlight Club Mystery series.
Sergio Ruzzier is the author and illustrator of many children's books, including A Letter for Leo, Bear and Bee, and Two Mice. He has created comic strips for Italian magazines Linus and Lupo Alberto Magazine. He has also done work for many national and international magazines and book publishers. His work has been awarded by American Illustration, The Society of Illustrators, Communication Arts, The Society of Publication Designers, and Parents' Choice, and in 2011 he was awarded the Sendak Fellowship. Born in Italy, he lives in Brooklyn, New York. Visit Sergio at Ruzzier.com.
More like this