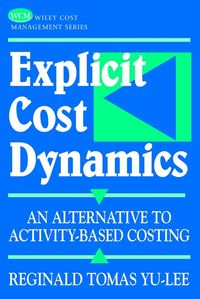 BACK
Explicit Cost Dynamics
An Alternative to Activity-Based Costing
Cost management systems are the foundation for decisions that are made throughout a corporation and therefore have important far-reaching effects. Unfortunately, existing cost management systems typically lead to decision-making that does not optimize company performance. Profit maximization in an organization requires an objective understanding of both profits and costs. This revolutionary book introduces the development and implementation of Explicit Cost Dynamics (ECD), a nonallocation-based cost management system that offers an alternative to traditional cost accounting methods as well as activity-based costing.
By providing decision-makers with the relevant tools and information with which to understand the impact of costs, time, and past, current, and future activities on the bottom line of a corporation, Explicit Cost Dynamics eliminates the ambiguity created by allocating costs-thereby eliminating overbidding, unreliable predictions, and inflexibility. The ECD approach creates a costing system that cannot be manipulated to make performance numbers appear better, is well-suited to "what-if analysis," and is far simpler than allocation-based models.
Written by an expert in the field, Explicit Cost Dynamics shows CEOs, CFOs, controllers, cost managers, financial managers, and anyone else involved in cost management decisions how ECD can lead to overall profit maximization and bring harmony to an organization's numbers-as well as its decision-makers.
More like this