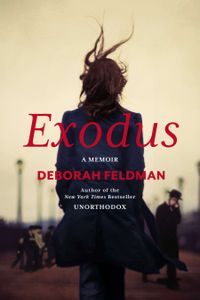 BACK
EXODUS
A Memoir
Deborah Feldman, author of the explosive New York Times–bestselling memoir UNORTHODOX, returns with an extraordinary follow-up that traces her new life as an independent young woman and single mother, and her search for an authentic and personal Jewish identity.
Life as a young, single mother in New York City presented her with a unique set of challenges: how to raise her son in the "real" world, while maintaining his ties to his Orthodox father, how to support herself as a writer, and how to negotiate the dating sceneperhaps the most daunting task for a young woman who was deprived of a sex education and entered into an arranged marriage as a teenager.
Culminating in an unforgettable trip across Europe to retrace her grandmother's life during the Holocaust, EXODUS is a deeply moving exploration of the mysterious bonds that tie us to family and religion, the bonds we must sometimes break to find our true selves.

As a woman and a writer, Feldman broke all the rules she was raised to live by, and in the process has discovered a world of like-minded outcasts and misfits, bound together in the universal struggle for self-acceptance and healing. Feldman is a captivating writer and beguiling storyteller, and her singular life has been an inspiration to countless others elsewhere.

Deborah Feldman was raised in the Satmar Hasidic community in the Williamsburg section of Brooklyn, New York. Her first memoir, Unorthodox was a New York Times bestseller and has been made into a miniseries on Netflix. She attended Sarah Lawrence College and currently lives in New England with her son.
More like this