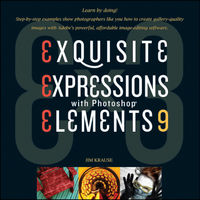 BACK
Ex3
Exquisite Expressions with Photoshop Elements 9
Delve into new creative endeavors with this unique guide to Photoshop Elements 9
Adobe Photoshop Elements is the leading consumer-level photo editing software for both Mac and Windows users. This one-of-a-kind guide demonstrates creative effects you can accomplish with Photoshop Elements, using five gallery-quality images to illustrate each tutorial. Every lesson includes the specific shooting information used for the photo and details of the Elements treatments applied to transform it. With its unique 9x9" format and spectacular photographs, this book is unlike any other Photoshop Elements guide available.
Photoshop Elements is the number one photo editing software for consumer use and is available for both Mac and Windows
This guide provides tutorials for specific creative explorations using Photoshop Elements, illustrated with gallery-quality images presented in a before-and-after format
Special "Capture Notes" provide the camera and setting information for each photo, while "Digital Notes" offer the details about the Elements treatments used to alter or enhance it
Spreads of spectacular images at the end of each chapter demonstrate the aesthetic quality one can achieve
Unique in size, image quality, and approach, Ex3 teases your creativity while it provides step-by-step guidance to key features of Photoshop Elements.
More like this