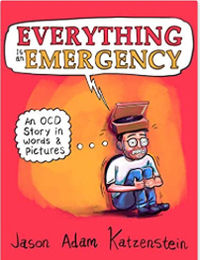 BACK
EVERYTHING IS AN EMERGENCY
An OCD Story in Words and Pictures
A New Yorker cartoonist illustrates his lifelong struggle with OCD in cartoon vignettes frank and funny.
Katzenstein's story spans his anxious experiences through childhood and his outlet in drawing. He shares his voyage through navigating the intimidating world of dating and socializing and becoming a published artist in The New Yorker-- a major dream fulfilled, but the huge achievement doesn't end the anxiety. With the help of therapy and medication, he works towards finding his balance and sustaining his creativity.

Everything is an Emergency is a comic about all the self-destructive stories someone tells himself, over and over, until they start to seem true. In images surreal, witty, and confessional, Jason shows us that OCD can be funny, even when it feels like it's ruining your life.

EVERYTHING IS AN EMERGENCY will resonate with readers of graphic stories such as Alison Bechdel's Fun Home and Allie Brosh's Hyperbole and a Half.

JASON ADAM KATZENSTEIN is a cartoonist and writer for print and television. His work has appeared in The New Yorker, the New York Times and MAD Magazine, and on Cartoon Network. He is the illustrator of The White Man's Guide to White Male Writers of the Western Canon and the graphic novel Camp Midnight. He is also a visiting professor at Wesleyan University.
More like this