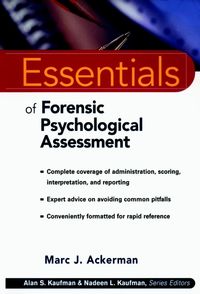 BACK
Essentials of Forensic Psychological Assessment
Quickly acquire the knowledge and skills you need to confidently administer, score, and interpret the key assessment instruments used by forensic psychologists

There are various psychological areas that must be addressed when performing forensic assessments. In order to do this properly, professionals need an authoritative source of advice and guidance on how to administer, score, and interpret these tests. Written by a noted forensic psychologist, Essentials of Forensic Psychological Assessment is the first and only book to provide forensic psychologists and other mental health professionals involved in court cases with state-of-the-art interpretive and administrative guidelines for the most widely used assessment tools (including the ASPECT, BPS, PCRI, TSI, MPS, MMPI-2, and the WAIS-III).

This book covers custody cases, expert witness assessment, fitness to stand trial, civil commitment, substance abuse assessment, and many other aspects of forensic mental health practice. The author provides information on the validity of each test, compares their relative strengths and weaknesses, and offers valuable advice on clinical applications. Each concise chapter features numerous callout boxes highlighting key concepts, bulleted points, and extensive illustrative material, as well as test questions that help you gauge and reinforce your grasp of the information covered.

Other titles in the Essentials of Psychological Assessment series.
More like this