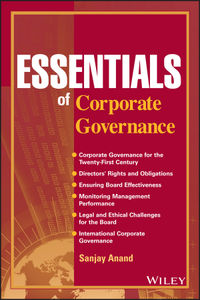 BACK
Essentials of Corporate Governance
Praise for Essentials of Corporate Governance

"Mr. Anand's book is a practical study of the complicated issues surrounding the world of corporate governance. He includes excellent case studies and best practice solutions for improving governance programs within all types of organizations."
-Chrisan Herrod

V.P. Marketing and Business Development

Compliance Spectrum

"This book is a highly practical, accessible guide to post-Enron reforms and an essential resource for managers who want more than just to comply with SOX; this book will help them benefit from it."
-Nell Minow

Editor and cofounder

The Corporate Library

Written by Sanjay Anand, one of the world's leading corporate governance, risk management, and regulatory compliance experts, this simple-to-use book is designed with appreciation for demanding professional obligations, with information easy to find and at your fingertips. This professional guide's nuts-and-bolts presentation examines why corporate governance is important, to put you in a better position to understand its successful implementation for your organization.

Essentials of Corporate Governance will challenge your concept of corporate governance and provide you with an understanding of:
*

The concept of governance
*

The competing goals that corporations may have
*

Why there is a call for corporations to be more ethical
*

The various forms of corporate structure
*

Corporate governance in emerging markets
*

Corporate governance within nonprofit organizations

Communicating the idea of corporate governance as a process and an ideal rather than a set of criteria, this accessible and relevant book is the resource and reference guide you will turn to time and again for the knowledge you need to make corporate governance work for your corporation.
More like this