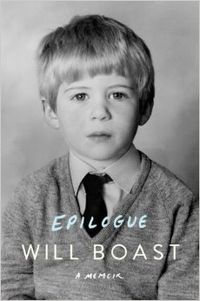 BACK
EPILOGUE
A Memoir
In the tradition of Andre Dubus III's Townie, an astonishing family story heralding the arrival of a raw, elegiac new voice.
It is rare enough to find a prize-winning young writer of Will Boast's spellbinding talent, but to find one with such an intensely dramatic personal story is a once-in-a-generation discovery.

After having already lost his mother and only brother, twenty-four-year old Boast finds himself absolutely alone when his father dies of alcoholism. Numbly settling the matters of his father's estate, Boast is shaken from his grief when he stumbles upon documents revealing a secret his father had thought to take to his grave: he 'd had another family entirely, a wife and two sons.

What Boast discovers about his father as he tracks down these strangers forces him to reimagine the fundamental truths of his childhood and to wonder whether, after everything, he has a chance to rewrite his family story.

Weblink:
www.willboast.com


More like this