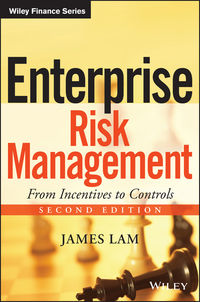 BACK
Enterprise Risk Management
From Incentives to Controls
Successful risk management requires balance—of risk and reward, controls and culture, art and science. In the fully revised and updated Enterprise Risk Management: From Incentives to Controls, Second Edition, James Lam leads you on a thorough exploration of ERM from the unique perspective of one of the world's foremost authorities on risk and business management. With an abundance of first-hand experience, Mr. Lam provides practical guidance from his work as a chief risk officer, a trusted board advisor and management consultant, and a public company director. Throughout the book, he provides case studies and real-world examples—every aspect of risk management is distilled and discussed—from the perspective of highly effective and proven corporate leadership.
Business executives and risk management professionals are tasked with identifying and taking intelligent risks. In this book, Mr. Lam explains how an over-reliance on quantitative risk measurement has directly contributed to some of the high-profile risk management failures of recent years. Most risk models are simply incapable of accurately predicting the complex scenarios that could lead to financial disaster, which is why Enterprise Risk Management: From Incentives to Controls, Second Edition posits that your company's risk profile—and ultimately the success or failure of its risk management strategy—is driven by the decisions and actions of its leadership and employees.
Based on direct experience with more than 50 ERM programs, Mr. Lam explains how to establish best practices and overcome common barriers. In this updated Second Edition, a new section dedicated entirely to ERM Implementation articulates the importance of effective board risk oversight, risk assessment, risk-based decision making, and risk dashboard reporting in a way that is accessible for board members, business executives, risk professionals as well as their employees and stakeholders. Enterprise Risk Management: From Incentives to Controls, Second Edition takes you far beyond quantitative risk measurement and predictive modeling to a comprehensive understanding of how to build and nurture a corporate culture that encourages successful enterprise risk management.
More like this