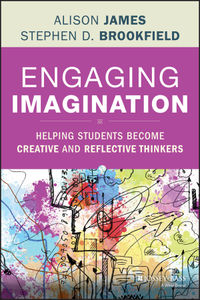 BACK
Engaging Imagination
Helping Students Become Creative and Reflective Thinkers
Stepping outside of the comfort zone of traditional classroom methodologies, Engaging Imagination enables instructors across disciplines to engage students in learning through creative and innovative approaches and thereby help their students succeed, both in the classroom and beyond. Leading educators Alison James and Stephen Brookfield show that through creative exploration, students can extend their reflective capabilities in a purposeful way, understand their own potential and learning more clearly, and claim the freedom to generate and explore new questions that have not already been asked. Creativity and innovation are now top priorities employers look for when making hiring decisions, and important skills for success in any area of life.
Engaging Imagination guides readers through the three primary elements of developing and implementing effective creative instruction techniques:
Understanding the Role of Imagination in Learning
Engaging Imagination: Tools and Techniques
Negotiating the Emotional Realities of Engaging Imagination
The book draws on multisensory approaches to learning—visual and verbal, kinesthetic and cognitive, online and off-line, solo study and group work, large and small numbers of students—and travels across domains of time and space. And although the book is about practical application, it takes much more of a "what if" than a "how to" approach to evoking critical reflection. What if we, as teachers, take more imaginative approaches and integrate them into our established curricula? What if we, and our students, step outside our comfort zone and do something differently? What if we are playful in our approaches to learning?
Engaging Imagination offers a mixture of exercises, activities, theories, positions, approaches, and people. It is a text of different voices: stories, case studies, anecdotes, and project descriptions. It is a book about questions and assumptions, about dialogue and spaces. With this book, the authors intend to add to the library of resources on alternative modes of learning and assessment and to link the literature of creativity, imagination, and play explicitly to reflective practice. Engaging Imagination is not about shutting out traditional approaches but about extending and adding to them via open-minded experimentation and exploration. This is an invaluable resource for educators at all levels who seek to integrate imaginative learning exercises to help students develop the skills necessary for productive critical reflection.
Written for teachers at all levels who wish to engage students in nurturing creativity and innovation, this book challenges and empowers educators to seek new ways of reaching and inspiring their students and preparing them for the real challenges of the future.
More like this