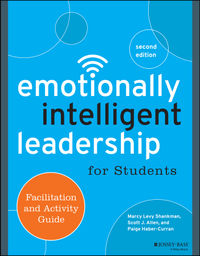 BACK
Emotionally Intelligent Leadership for Students
Facilitation and Activity Guide
A how-to guide to help for facilitators and instructors develop emotionally intelligent leadership capacities in their students
The Emotionally Intelligent Leadership for Students: Facilitation and Activity Guide delivers a comprehensive curriculum for those who want to help students foster the 19 emotionally intelligent leadership (EIL) capacities presented in the book Emotionally Intelligent Leadership: A Guide for Students. Research from around the world has demonstrated that there is a relationship between emotional intelligence and leadership. For the all-new second edition, the authors have completely rewritten all the modules according to their revised, data-based EIL model. These activities bring theory into practice, targeting specific learning outcomes that will help students become better leaders.
This guide will allow you to lead students through the Emotionally Intelligent Leadership for Students: Student Workbook and can be used with or without the Emotionally Intelligent Leadership for Students: Inventory, which helps students to assess their EIL capacities.
Contains 23 all new modules consisting of step-by-step instructions for facilitating leadership activities
Reflects 19 emotionally intelligent leadership capacities derived from new research
Provides hands-on learning experiences and case studies that allow students to enhance their leadership abilities
Includes clear instructions for modifying activities to fit any setting or time constraint
The Emotionally Intelligent Leadership for Students suite of resources offers an immersive and transformative educational experience, fostering growth and promoting intense self-reflection. Students will be empowered to develop into the effective leaders of the future.
More like this