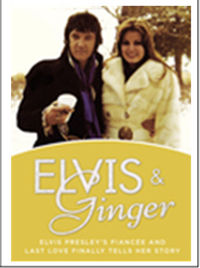 BACK
ELVIS AND GINGER
Elvis Presley's Fiancee and Last Love Finally Tells Her Story
Millions of Elvis fans have waited decades for Ginger Alden's story and now, for the first time, Elvis' last love gives an intimate, first-hand account of her relationship with Elvis Presley in his final years, from the moment she first saw him as a star struck child at a carnival, to their blossoming romance and engagement at Graceland, to the moment she discovered his body on the morning of August 16, 1977.
For over three decades Ginger Alden has held the truth of her relationship with Elvis Presley close to her heart. Now, in her own words and for the very first time since his death, Elvis Presley's last love and fiancée, details the final years of the King of Rock and Roll – from their unusual romance, to his exploration of Eastern religions, to his deteriorating health – all from her own unique and intimate perspective. Born and raised in Memphis, Graceland and Elvis were always fixtures in Ginger's life (her father was present at Elvis' induction when he was drafted into the army) but she never expected that he would have such personal impact on her. The tabloids have covered the controversy, but now Ginger sets the record straight.

While a lot has been written about the King, the Elvis in these pages is a revelation – from their first kiss to that final, tragic day, Alden rescues Elvis from the rumors and tabloid speculations by shedding light on a public legend. She reveals the man – complicated, romantic, and fallible – behind the enduring myth: a superstar worshipped by millions, and loved by Ginger Alden.

Ginger Alden is an actress and model, known for her role on the daytime soap opera Capitol. A spokeswoman for the Claridge Hotel and Casino, Ginger also starred in more than a hundred television commercials. She lives in Long Island, New York, with her husband and son.
More like this