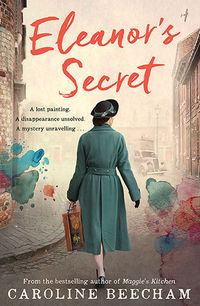 BACK
ELEANOR'S SECRET
An engrossing wartime mystery of past deceptions, family secrets and long-lasting love.
London, 1942
When art school graduate, Eleanor Roy, is recruited by the War Artist Advisory Committee, she comes one step closer to realising her dream of becoming one of the few female war artists. But breaking into the art establishment proves difficult until Eleanor meets painter, Jack Valante, only to be separated by his sudden posting overseas.

Melbourne 2010
Although reluctant to leave her family at home, Kathryn can't refuse her grandmother Eleanor's request to travel to London to help her return a precious painting to its artist. But when the search uncovers a long-held family secret, Kathryn has to make a choice to return home or risk her family's future, as Eleanor shows her that safeguarding the future is sometimes worth more than protecting the past.

Eleanor's Secret is at once a surprising mystery and compelling love story.

Caroline Beecham grew up at the English seaside and relocated to Australia to continue her career as a writer and producer in film and television. She has worked on a documentary about Princess Diana lookalikes, a series about journeys to the ends of the earth, as well as a feature film about finding the end of the rainbow. Caroline decided on a new way of storytelling and studied the craft of novel writing at the Faber Academy in 2012. She has an MA in Film & Television and a MA in Creative Writing and lives with her husband and two sons by Sydney harbour. Her first novel, Maggie's Kitchen, was published by Allen & Unwin in 2016.
More like this