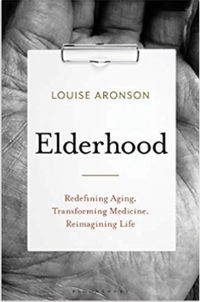 BACK
ELDERHOOD
Redefining Aging, Transforming Medicine, Reimagining Life
Geriatrician Louise Aronson's insightful non-fiction title about our care - or the lack thereof - of the elderly.
As revelatory as Atul Gawande's BEING MORTAL, physician and award-winning author Louise Aronson's ELDERHOOD is an essential, empathetic look at a vital but little respected stage of life. For more than 5,000 years, "old" has been defined as beginning between the ages of 60 and 70. That means most people alive today will spend more years in elderhood than in childhood, and many will be elders for 40 years or more. Yet at the very moment that humans are living longer than ever before, we've made old age into a disease, a condition to be dreaded, disparaged, neglected, and denied.

Reminiscent of Oliver Sacks, noted Harvard-trained geriatrician Louise Aronson uses stories from her quarter century of caring for patients, and draws from history, science, literature, popular culture, and her own life to weave a vision of old age that's neither nightmare nor utopian fantasy. She challenges not only the way we look at aging but also the way we think and feel about medicine and humanity itself.

ELDERHOOD is for anyone who is, in the author's own words, "an aging, i.e., still-breathing human being."

Louise Aronson, MD, is the author of A History of the Present Illness and a geriatrician, educator, and professor of medicine at the University of California, San Francisco (UCSF), where she directs UCSF Medical Humanities. A graduate of Harvard Medical School and the MFA Program For Writers at Warren Wilson College, Dr. Aronson has received the Gold Professorship in Humanism, the California Homecare Physician of the Year Award, and the American Geriatrics Society Clinician-Teacher of the Year Award, as well as numerous awards for her teaching, educational research, and writing. The recipient of a MacDowell fellowship and four Pushcart nominations, her articles and stories have appeared in many publications, including the New York Times, New England Journal of Medicine, Lancet, and Bellevue Literary Review. She lives in San Francisco.
More like this