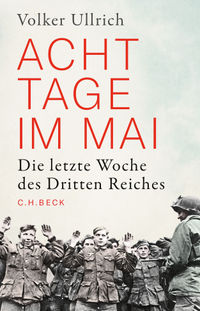 BACK
Eight Days in May
The Last Week of the Third Reich
From Hitler's suicide to surrender – the last week of the Third Reich.
The last week of the Third Reich has begun. Hitler is dead, but the war is not over yet. Everything seems to come to a standstill, and yet everything is in breathless motion. Volker Ullrich describes this "timeless time" day after day and carries the reader off into a collapsing world full of drama and hope, violence and fear. His book is an unforgettable journey through time into doom.
While the Dönitz government evades to Flensburg, the Allied forces continue to advance inexorably. Berlin capitulates, in Italy the army group C capitulates. Rocket scientist Wernher von Braun is arrested. There is a suicide epidemic and mass rape. Last death marches, wild expulsions, submerging Nazis, liberated concentration camps – all that belongs to that "gap between the no longer and the not yet" which Erich Kästner notes in his diary on 7 May 1945. Volker Ullrich, the great journalist and Hitler biographer, has put together a panorama of these "Eight Days in May" from historical miniatures and mosaic stones that reads more captivatingly than many a thriller.
From 1990 to 2009, Volker Ullrich was an editor at the weekly newspaper "Die Zeit", where he was responsible for the "Political Book" section. He recently published a two-volume biography of Hitler, which has been internationally successful as well.
More like this