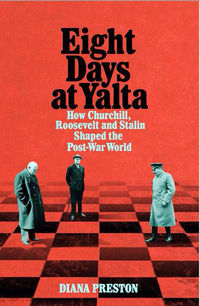 BACK
EIGHT DAYS AT YALTA
How Churchill, Roosevelt and Stalin Shaped the Post-War World
Here is a minute-by-minute account of the Yalta conference that created the post-War world and laid down the fault lines of the Cold War.
In the last winter of the Second World War, Winston Churchill, Franklin D. Roosevelt and Joseph Stalin arrived in the Crimean resort of Yalta. Over eight days of bargaining, bombast and intermittent bonhomie they decided on the conduct of the final stages of the war against Germany, on how a defeated and occupied Germany should be governed, on the constitution of the nascent United Nations and on spheres of influence in Eastern Europe, the Balkans and Greece.

Only three months later, less than a week after the German surrender, Roosevelt was dead and Churchill was writing to the new President, Harry S. Truman, of 'an iron curtain' that was now 'drawn down upon [the Soviets'] front'.

Diana Preston chronicles eight days that created the post-war world, revealing Roosevelt's determination to bring about the dissolution of the British Empire and Churchill's conviction that he and the dying President would run rings round the Soviet premier. But Stalin monitored everything they said and made only paper concessions, while his territorial ambitions would soon result in the imposition of Communism throughout Eastern Europe.

Meticulously researched and vividly written, EIGHT DAYS AT YALTA is a remarkable work of intense historical drama.

Diana Preston is an Oxford educated historian and author. Diana's earlier books include the acclaimed 'BEFORE THE FALLOUT From Marie Curie to Hiroshima' which won the Los Angeles Times Prize for Science and Technology; 'WILFUL MURDER The Sinking of the Lusitania" which was made into a full-length TV movie by the BBC; 'A HIGHER FORM OF KILLING Six Weeks in Spring 1915 that Changed the Nature of Warfare', 'BESIEGED IN PEKING The 1900 Boxer Rebellion' and ' A FIRST- RATE TRAGEDY Robert Falcon Scott and the Race to the South Pole.' Diana often acts as a consultant to and appears in historical documentaries. Most recently she appeared in National Geographic's 'Origins' series on which she was a consultant and script writer.
More like this