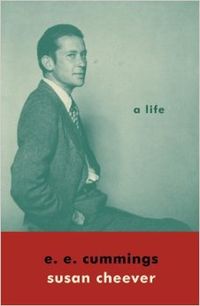 BACK
E.E. CUMMINGS
A Life
The Biography of the irreverent modernist poet, who was apparently a sad, troubled man. Written by Susan Cheever, the acclaimed author of "My Name Is Bill" and "Home Before Dark" —a major reassessment of the life and work of one of America's preeminent twentieth-century poets.
Cummings's radical experimentation with form, punctuation, spelling, and syntax resulted in his creation of a new, idiosyncratic means of poetic expression. And while there was critical disagreement about his work (Edmund Wilson called it "hideous," Malcolm Cowley called him "unsurpassed in his field"), at the time of his death in 1962, at age sixty-eight, he was, after Robert Frost, the most widely read poet in the United States. Now, in this rich, illuminating biography, Susan Cheever traces the development of the poet and his work. She takes us from Cummings's seemingly idyllic childhood in Cambridge, Massachusetts, through his years at Harvard (rooming with Dos Passos, befriending Malcolm Cowley and Lincoln Kirstein) when he devoured the poetry of Ezra Pound whose radical verses lured the young writer away from the politeness of the traditional nature poem towards a more adventurous, sexually conscious form . . . We follow Cummings to Paris in 1917, and, finally, to Greenwich Village to be among other modernist poets of the day—Marianne Moore and Hart Crane, among them. A revelation of the man and the poet, and a brilliant reassessment of the freighted path of his legacy.

Susan Cheever was born in New York City and graduated from Brown University. A Guggenheim fellow and a director of the Board of the Yaddo Corporation, Cheever currently teaches in the MFA programs at Bennington College and The New School. She lives in New York City:

"I was born in New York City and have lived here on and off my entire life--in fact I went to nursery school a few blocks from where I write this. It took me a long time to admit I was a writer--I had a career as a teacher and I loved it. When I was married I couldn't get a teaching job so by an amazing stroke of luck I went to work for my local small town newspaper. After a long time as a newspaper and magazine journalist, I took off to write a novel when I was 35 and I haven't looked back".
More like this