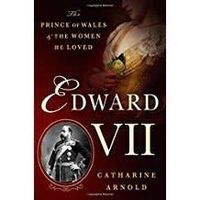 BACK
Edward VII
The Prince of Wales and the Women He Loved
From the real-life Downton Abbey world of American heiresses, stately homes and aristocratic love affairs to the brothels of Paris, this is the world of King Edward VII, playboy monarch and celebrated lover. Gossipy, anecdotal and peopled with unforgettable characters, King of Hearts sees Catharine Arnold cast an amused and tolerant eye over Edward's amorous adventures in a hugely enjoyable, gossipy book peopled with unforgettable characters.
As guests thronged into Westminster Abbey to take their appointed places for the coronation of King Edward VII on 9 August 1902, they were greeted by a pew reserved for 'the King's special ladies' otherwise known as 'the King's loose box.' It was more like the winner's enclosure. King Edward's coronation gave him the opportunity to display his thoroughbred fillies, and thank them for years of loyal service. Here sat Alice Keppel, Bertie's Mistress in Chief, and great grandmother of Camilla Parker Bowles, wife of our current Prince of Wales; actresses Lillie Langtry and Sarah Bernhardt; panther-eyed Jennie Churchill, mother of Winston; American heiress Minnie Stevens, and at least two of Bertie's illegitimate daughters, Princess Daisy of Pless and Baroness Olga de Meyer. If you can tell a man by the company he keeps, then these ladies tell us everything we want to know about the character of Edward VII, or 'Bertie.'
Charming and dissolute, Bertie admired beautiful, spirted women who sparkled in his company. While Bertie certainly had a physical 'type', his lovers embraced a wide field of occupations. Lillie Langtry rose from obscurity to become Bertie's first public mistress. Bertie lavished a fortune on Lillie, and once informed her that 'I spent enough on you to buy a battleship!' to which lively Lillie retorted: 'and you've spent enough in me to launch one!' Daisy Brooke, Countess of Warwick was an extravagant socialite who discovered socialism and later stood for Parliament on a Labour ticket. French actress Sarah Bernhardt, a bisexual opium addict, represented a departure from Bertie's normal type, but he was besotted with her and they once appeared together on stage. Also against type was starchy matron Agnes Keyser, founder of a hospital for officers.
Larger than life with king-sized appetites, Bertie conducted his liaisons against the glittering backdrop of London society, the Continent and the stately homes of England, where a strict code of honour insulated the night time corridor creepers from scandal. In Paris, Bertie was a regular at the Moulin Rouge music hall, where his nickname was 'Kingy!' and the dancer 'La Goulue' yelled to him from the stage, 'ello, Wales! Are you going to pay for my champagne?' In his later years, Bertie was an honoured guest at Le Chabanais, a palatial bordello known as the best 'house' in Paris. It was here that the ageing Bertie indulged in champagne baths in a copper tub, and entertained his female companions on a specially designed 'siege d'amour' or 'love seat.'

Weblink:
http://www.andrewlownie.co.uk/authors/catharine-arnold/books/edward-vii-the-prince-of-wales-and-the-women-he-loved


More like this