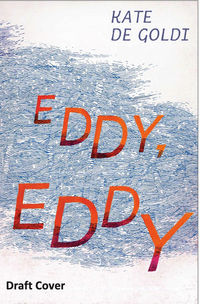 BACK
EDDY, EDDY
Eddy, Eddy is a richly layered novel, deftly written with humour and pathos.
It's a coming of age story: Eddy, an orphan who lives with his librarian uncle, has been expelled from school and is grappling with identity, love, death, loss and religion. He's working as a dog walker and trying to keep his life together.

It's a love story. Despite Eddy's troubles, his world is peopled with a quirky, comic and loving set of characters, both human and animal.

It's an earthquake story, set in Christchurch not long after the earthquakes shattered people's homes, lives and minds, including Eddy's.

And it's also a story of grief, the way its punch can leave you floundering, and how others can help you find your way back.

Kate De Goldi's love of words, word play and literary allusions are central to Eddy's world and they form a beautiful overlay to the story. The novel loosely mirrors A Christmas Carol by Charles Dickens, and keen readers will spot many bookish references.

Kate de Goldi is one of New Zealand's most celebrated authors. She has published a range of short stories, collections and novels for adults and children. De Goldi's novel The 10pm Question (2008) was published to critical acclaim both in New Zealand and overseas, quickly becoming an iconic piece of New Zealand literature. De Goldi has been extensively involved with numerous programmes, committees, and organisations focused on creative writing, education and New Zealand literature.
More like this