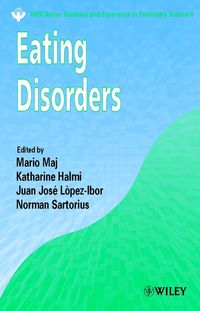 BACK
Eating Disorders
Anorexia nervosa, bulimia nervosa and binge eating disorder are all associated with significant emotional and relational stress. They can have serious physical complications. Most cases of anorexia and bulimia nervosa remain undiagnosed, and many diagnosed cases are inappropriately treated. It is therefore essential to reduce the gap between research evidence and clinical experience in order to improve diagnosis and treatment of these mental disorders.
This latest volume examines the recurrent social and biological problem of eating disorders and provides:
Coverage of all aspects of eating disorders, including diagnosis, epidemiology and pharmacological treatment
Contributions from internationally acclaimed experts
An unbiased and reliable reference point
This title is the sixth volume in the exciting, innovative WPA Series Evidence and Experience in Psychiatry.  Written by internationally renowned psychiatrists, this book series provides evidence-based information for psychiatrists, psychologists, mental health nurses and policy makers.
More like this