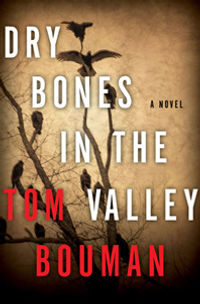 BACK
DRY BONES IN THE VALLEY
A stark, stirring debut mystery set in the hills of rural Pennsylvania.
When an elderly recluse discovers a corpse on his land, Officer Henry Farrell is drawn into his first murder investigation, a case he has little hope of closing. In Wild Thyme Township, secrets and feuds go back generations. Meth labs and heroin dealers are sprouting like mushrooms in the woods, and the steady encroachment of gas drilling has brought new wealth and discord. When danger strikes close to home, Henry's hunt for the killer will open old wounds, dredge up ancient crimes, and lead to a final, deadly reckoning.

As Daniel Woodrell did for the Ozarks and Dennis Lehane does for gritty South Boston, Tom Bouman immerses readers in rural northeastern Pennsylvania. Mystery readers will love fiddle-playing, deer-hunting Henry Farrell, a bashful local cop with a wry voice and hidden depths. The influence of writers like James Lee Burke and Tana French is clear, but more useful comparisons might be Wylie Cash or Scott Smith.

Tom Bouman earned an MFA in fiction from Columbia and worked for many years in publishing as an editor at FSG, Harcourt, and Hachette. He now lives with his wife and daughter in rural Pennsylvania.

Weblink:
http://books.wwnorton.com/books/detail.aspx?ID=4294978730


More like this