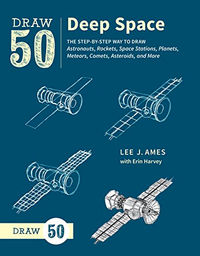 BACK
DRAW 50 OUTER SPACE
The Step-by-Step Way to Draw Astronauts, Rockets, Space Stations, Planets, Meteors, Comets, Asteroids, and More
Part of the best-selling Draw 50 series this step-by-step guide to sketching and rendering astronauts, planets, asteroids, comets, spaceships, space stations, and other elements related to outer space exploration is for artists of all levels.
In this new installment of Lee J. Ames's beloved Draw 50 series, readers will find easy-to-follow, step-by-step lessons for outer space drawing. In each lesson, six wordless steps provide everything needed to master drawing all kinds of planets, moons, comets, and meteors, as well as astronauts, rockets, spaceships, and other aspects--both natural and manmade--related to charting the cosmos.

LEE J. AMES began his career at Walt Disney Studios and taught at the School of Visual Arts in New York City and Dowling College on Long Island, New York. He directed his own advertising agency and illustrated more than 150 books, ranging from preschool picture books to postgraduate textbooks. A prolific author of more than thirty Draw 50 books, Ames died at the age of 90 in 2011.
ERIN HARVEY is an artist who works primarily in pencils, charcoals, oils, and pen and ink. She lives outside Atlanta with her husband, Ben, and their two children.
More like this