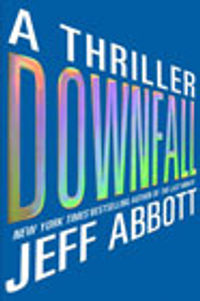 BACK
DOWNFALL (Sam Capra 3)
Sam Capra is back in this heart-stopping sequel to ADRENALINE and THE LAST MINUTE,

When a beautiful woman whispers "help me" to him in his San Francisco bar, Sam suddenly finds himself fighting to save both her life ... and his. Pursued by both the police and by a secret network of incredibly successful people who owe their wealth to a Faustian deal, Sam must bring down the most dangerous enemy of them all: a man who owns the people who run the world.

"One of the best thriller writers of our time." - Harlan Coben.
"Abbott writes suspense classics." - Lee Child.
"A frenzy of action." - Lisa Gardner.
"A hell of a page-turner." - Michael Connelly.
"I read it in a big gulp." - Charlaine Harris.

Jeff Abbott has been published in dozens of languages throughout the world and has been a bestseller in the US, the UK, Ireland, France, Germany, Australia, Portugal, and other countries. Film option for the SAM CAPRA series to Mazur/Kaplan and Original Films.

Weblink:
http://www.jeffabbott.com


More like this