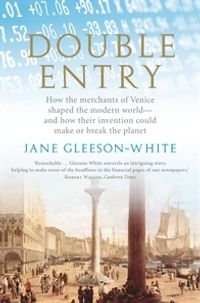 BACK
DOUBLE ENTRY
How the merchants of Venice shaped the modern world - and how their invention...
A fascinating exploration of how a simple system used to measure and record wealth spawned a cultural revolution.
'So it has come to this. The global biodiversity crisis is so severe that brilliant scientists, political leaders, eco-warriors, and religious gurus can no longer save us from ourselves. The military are powerless. But there may be one last hope for life on earth: accountants.'
Jonathan Watts, The Guardian, October 2010

Our world is governed by the numbers generated by the accounts of nations and corporations. We depend on these numbers to direct our governments, our institutions, corporations, economies, societies. But where did they come from and how did they become so powerful? The answer to these questions begins in the Dark Ages in northern Italy with a new form of record keeping perfected by the merchants of Venice called double-entry bookkeeping. The story of double entry stars a Renaissance monk, mathematician, magician and constant companion of Leonardo da Vinci, his 27-page treatise for merchants, renaissances in art and mathematics, and revolutions in communications and industry.

The rise and metamorphosis of double-entry bookkeeping is one of history's best-kept secrets and one of its most important untold tales. Why? First, because it made possible the wealth and cultural efflorescence that was the Renaissance. Second, because it enabled capitalism to flourish, so changing the economies of the world forever. Third, because over several centuries it grew into a sophisticated system of numbers which in the twenty-first century governs the global economy. And finally, and most significantly, because today bookkeeping has the potential to make or break the planet.

Jane Gleeson-White has worked as an editor, writer and reviewer in Sydney and London since completing her degrees in economics and accounting, and English and Australian literature, at the University of Sydney in 1987. She also worked as a student at the Peggy Guggenheim Museum in Venice, where she studied Byzantine, early Renaissance and modern art. Her first book, Classics, was published in 2005, and her second book, Australian Classics, in 2007.
More like this