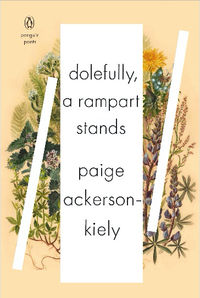 BACK
DOLEFULLY, A RAPART STANDS
This is a collection of haunting, image-rich poems about isolation, captivity, and vanishing as liberation.
The poems in Paige Ackerson-Kiely's third collection are set primarily in the rural northeast of America, and explore entrapment, captivity, violence, and a longing to vanish. Ranging from free verse to blank verse to a long noir prose poem, they examine who her, or our, "captors" might bebe they other people, material things, patterned thinking, jobs, or the anxiety of acquisition. Ackerson-Kiely has long been interested in characters who are aware of their foibles, and who find ways to turn away from those problems through real or imagined escape hatches. The long poem in DOLEFULLY, A RAMPART STANDS, "Book About a Candle Burning in a Shed," was inspired by a murder case in Kansas in 2007, and considers how often a crime victim's narrative and persona can be overshadowed either by the choices they made or by the voice of the investigator or perpetrator.

Paige Ackerson-Kiely the author of two poetry collections, In No One's Land and My Love Is a Dead Arctic Explorer. She is the associate director of the MFA in Writing program at Sarah Lawrence College and also a member of the poetry faculty at New England College's low-residency MFA in Writing program.
More like this