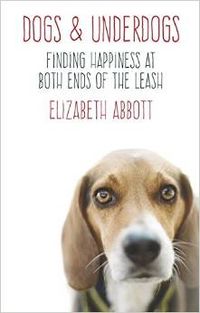 BACK
DOGS & UNDERDOGS
Finding Happiness at Both Ends of the Leash
A heartwarming look at how happiness—and redemption—can be found at both ends of the leash in all kinds of places.
Elizabeth Abbott had always been an animal lover, sharing her life with all kinds of dogs in need. But when worlds collided and her beloved dog Tommy was left behind in Haiti, a new journey began: one that would take her to some very surprising places and ultimately teach her some essential truths about the power of hope and redemption.

From the soulless concrete corridors of an American prison to the halls of a Canadian hospital to life among the ruins in post-war Serbia, Abbott meets people whose lives are changed forever by a wagging tail and a pair of soulful eyes—and dogs who find a new lease on life with devoted human companions.

Throughout Dogs and Underdogs, Abbott shares her own incredible and often amusing stories of rescuing dogs in need of shelter, friendship, and love: devoted Tommy, the inspiration who began it all; irrepressible Bonzi, the beagle who charmed his way into prisoners' hearts; sweet Alice, the little mama who survived a puppy mill to be "mothered" by other dogs; and many more. With wit and passion, Abbott digs down into the deepest roots of the human–animal bond, showing us that together people and dogs can find hope and happiness.

ELIZABETH ABBOTT is the bestselling author of A History of Celibacy, A History of Mistresses, A History of Marriage, and Sugar. Abbott has written for numerous media, including The Huffington Post, The Globe and Mail, the Toronto Star, the Ottawa Citizen, and The Gazette (Montreal). She lives in Toronto.
More like this