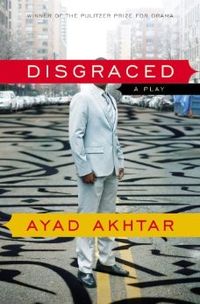 BACK
DISGRACED
A Play
"Sparkling and combustible" (Bloomberg Businessweek), "DISGRACED rubs all kinds of unexpected raw spots with intelligence and humor" (Newsday).
"In dialogue that bristles with wit and intelligence, Akhtar puts contemporary attitudes toward religion under a microscope, revealing how tenuous self-image can be for people born into one way of being who have embraced another.... Everyone has been told that politics and religion are two subjects that should be off-limits at social gatherings. But watching these characters rip into these forbidden topics, there's no arguing that they make for ear-tickling good theater" (New York Times). "Add a liberal flow of alcohol and a couple of major secrets suddenly revealed, and you've got yourself one dangerous dinner party" (Associated Press).

Ayad Akhtar is an American-born, first generation Pakistani-American from Milwaukee, Wisconsin. A Pulitzer prize-winning playwright, he holds degrees in Theater from Brown University and in Directing from the Graduate Film Program at Columbia University, where he won multiple awards for his work. He is the author of a novel, American Dervish, and numerous screenplays and was star and co-writer of The War Within, which premiered at the 2005 Toronto Film Festival and was nominated for an Independent Spirit Award for Best Screenplay and an International Press Academy Satellite Award for Best Picture - Drama.
More like this