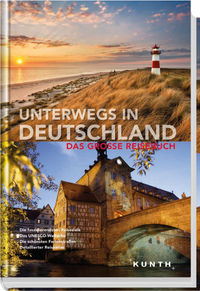 BACK
Discover Germany - The Big Travel Book
+ The most beautiful sights and travel destinations + The most exciting travel routes + Many practical travel tips + Many volumes have a detailed travel atlas
This travel book highlights Germany's most beautiful travel destinations by federal state – cities and neighborhoods, palaces and castles, monasteries and churches, nature reserves and national parks. And not only for the tourist hotspots such as Berlin, Munich, the Baltic coast or Neuschwanstein that attract the most visitors, but also for more remote small towns and regions, which all have cultural highlights and natural beauty to offer. Together with 21 itineraries and a road atlas, this book offers compact knowledge and easy orientation.
»Discover ...« a new kind of combined photo book, travel guide and atlas!
A lavish travel encyclopaedia offering detailed orientation and compact background
knowledge. The heavily illustrated and informative main section is arranged by regions
or travel routes, highlighting the most beautiful, must-see places. Each volume is
complemented by informative touring maps, city plans as well as detailed
street atlases for easy orientation.
More like this