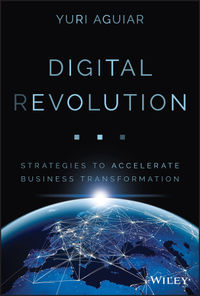 BACK
Digital (R)evolution
Strategies to Accelerate Business Transformation
In any successful business environment, change is constant. But once or twice in the lifetime of a company, it will be necessary to undergo such radical change that it's difficult to envision what lies on the other side. Today, with digital technologies transforming everything we do, nearly everyone will have to transform in order to grow. The scope of this change is, quite simply, overwhelming. To help leaders overcome panic and effectively navigate the required transformation, Digital (R)evolution: Strategies to Accelerate Business Transformation offers a thoughtful guide to digital transformation strategy.
The current age of disruption differs from all those that preceded it, not least because of its sheer speed. How can leaders approach business transformation—a process that calls for slow, methodical planning—in a time when any delay could mean losing competitive advantage? This book shows executives, board members, investors, and others where to focus their efforts to ensure the speed and success of digital transformation.
Even when technology is the motivating factor for transformation, in the end it is people, not technologies, that accomplish the transforming. Readers will learn to enlist the help of strong strategists, hire people who are leaders and disruptors in their own right, and address head-on the emotional impact that transformation will inevitably have.
Neither a one-size-fits-all roadmap nor a theoretical treatise, this book fills the knowledge gap, helping you understand the core principles of digital transformation and providing examples and insights that can help you design and execute a solid transformation strategy. If you are tasked with leading your organization into the digital era, you will find the tools and ideas you need to transform, and quickly. Hire innovators, reimagine your organization, foster discipline and excellence at all levels, integrate digital ecosystems, and learn to use technology as a runway to launch your organization to great heights.
These guidelines provide both a theoretical scaffolding and a set of guidelines for writing digital transformation success stories. Read Digital (R)evolution for inspiration, for knowledge, and for the clarity you'll need to assure the best possible outcome from your business transformation efforts.
More like this