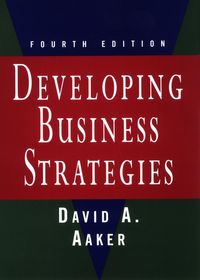 BACK
Developing Business Strategies
"A delight to read—sound strategic advice that is also very well illustrated with helpful, practical examples. The book helped our management team to thoroughly understand our business environment and chart new growth directions."—Daniel G. Simpson, Director of Strategy and Planning The Clorox Company
"An excellent work. Unlike other books that are either too theoretical or are merely recompilations of existing planning principles, this book finds fruitful ground with fundamental planning principles, credible examples, and superb references, all enhanced by a flowing narrative."—P. Timothy Carroll, Manager, Strategy and Innovation, Xerox Corporation
"Unquestionably the most comprehensive treatment available on the subject. I found the book unique in its capacity to benefit executives, planning staff, and students of strategy alike." —Robert L. Joss, Managing Director and CEO, Westpac Banking Corporation
"An exceptional tool for the challenges facing today's corporate planner. It should be read by every manager involved in planning and strategy." —Robert L. Lindberg, Vice President and Treasurer, Transamerica Corporation
"David Aaker provides a clearly written how-to guide to help managers identify, select, and implement strategies. He does this without pedantry, encouraging flexibility and creativity in approaching decisions." —Sandra L. Kurtzig, Founder and former CEO, The ASK Companies
What is it that lies at the heart of successful management and gives a business its vision, its understanding of itself, and its sense of direction? The answer, according to noted business scholar David A. Aaker, is the development, evaluation, and implementation of business strategies. Merely pursuing short-term goals based on last year's plans is no longer adequate.
Now in its fourth edition, Developing Business Strategies will help you move beyond reactive problem solving and into the development of a strategic vision for your business. Specifically, this book will show you how to:
Analyze a dynamic external environment to detect changes, trends, threats, opportunities, and uncertainties
Understand and develop sustainable competitive advantages—the key to long-term success
Make strategic investment decisions that focus resources on strengths and opportunities—not on areas of little business potential
Generate creative strategic options that can capture emerging trends and convert a struggling business into a thriving one
Apply the latest concepts and methods in strategy, and access empirical research for use in developing the most effective strategies
Develop a formal planning system and implement a strategy—a set of standard, easily adaptable planning forms are included
Achieve success by matching your strategy to your organization's structure, systems, people, and culture
While retaining all the qualities that made the first three editions so successful, this Fourth Edition of Developing Business Strategies incorporates the latest thinking on such recent topics as economic value analysis, total quality management, the virtual corporation, competitor image and personality, exchanging assets and skills, the borderless organization, and re-engineering. New material has also been added on quality function deployment, brand extension strategies, strategic questions, strategic vision and opportunism, strategic alliances, the distinction between pioneering and preemptive strategies, and the danger of "planning without soul."
If you are a business owner, manager, or planning executive, Developing Business Strategies is the book that will help you see your organization in a new light and show you how to create the dynamic strategies that lead to success.
More like this