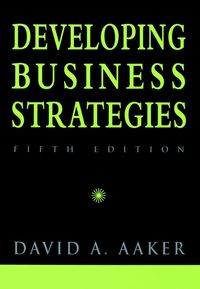 BACK
Developing Business Strategies
Developing Business Strategies Fifth Edition Unless you know where your company is going, chances are it won't get very far in today's global marketplace. That's why every business needs the strong vision and keen sense of direction that come from the development, evaluation, and implementation of business strategies-and why every business owner or manager should have Developing Business Strategies, David A. Aaker's classic and comprehensive guide to strategic planning, now in its fifth edition. Using vivid case studies, Developing Business Strategies helps you to move beyond reactive problem solving toward the development and realization of sound strategic objectives for your company. Providing both the framework and the tools necessary to make strategy development and strategy review efforts effective, this book shows you how to:
* Conduct a structured external and internal analysis of a business with confidence
* Develop sustainable competitive advantages by creating assets, competencies, and strategies
* Make strategic investment decisions to generate growth
* Organize to support strategies
* Compete strategically in hostile, growth, and global contexts
As compact and easy to use as ever, this new Fifth Edition offers new or revised sections on current topics such as strategic uncertainty, buyer hot buttons, shifting customer priorities, strategy as options, paradigm shifts, organizational stubbornness, and brand equity. You'll also find up-to-date research and fresh examples on economic value analysis, competitor image, total quality management, reengineering, the virtual corporation, and more-plus a set of useful sample planning forms to help guide you through the strategy development process. Whether you're a business owner, manager, or planning executive, the key to your company's success is in Developing Business Strategies.
More like this