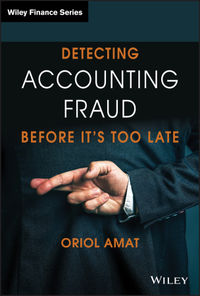 BACK
Detecting Accounting Fraud Before It's Too Late
Acompany's financial information is crucial for making most business decisions. Therefore, it is essential that an organization's accounts are reliable and based on accurate information. Detecting Accounting Fraud Before It's Too Late is a comprehensive guide to corporate fraud and manipulation. The book is filled with the facts, insights, and helpful suggestions for understanding and preventing corporate malfeasance before it takes hold of an organization and causes irreparable harm. Written by Oriol Amat—a noted expert on the topic—the book contains an in-depth exploration of the warning signs that indicate accounting fraud is taking place and details the proven techniques for identifying, preventing, and addressing fraud.
Detecting Accounting Fraud Before It's Too Late describes both legal and illegal accounting manipulation practices and offers a thorough examination of the ethical considerations and economic consequences of manipulations that affect shareholders, banks, employees, and others. Filled with real-world case studies from American, European, and Asian companies, the book clearly illustrates and analyzes the nature of accounting manipulation and, in many cases, reveals the underlying motivation.
The book shows how organizations can prevent accounting fraud and explains the role corporate governance plays in mitigating fraudulent practices. Designed as a practical resource, the book contains a unique, evidence-based list of fraud warning signs. The individual warning signs are combined into a fraud index. Investors can use the fraud index as a tool to rank companies by their susceptibility to financial information fraud.
In addition, the book offers a historical perspective on corporate fraud that reaches back in time to explain fraud in Mesopotamia and The Dutch East India Company. The author also puts contemporary scandals under the microscope such as Enron and Lehman Brothers.
This essential guide will benefit auditors investigating accounting fraud, analysts, and managers responsible for preventing fraud within their organizations.
More like this