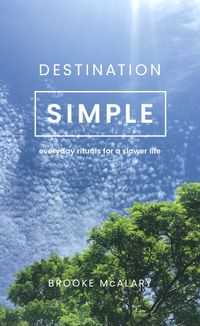 BACK
DESTINATION SIMPLE
Everyday Rituals for a Slower Life
A beautiful new edition of the international bestseller updated with advice following the Covid-19 lockdowns and how it has changed our lives and rituals. The first edition, published in 2017, sold to seven territories including the UK & US, France, Poland, Czech Republic, Portugal, Russia and in Simplified Chinese character.

Brooke McAlary knows first-hand the power of simplifying and living with less. After being diagnosed with postnatal depression, she embraced a slower, more intentional life. Then, when the Covid-19 pandemic hit, she had to review her everyday routines – and expectations. She looked for ways to adapt them to fit a life in lockdown, all the while protecting and prioritising her health, energy and passion.

In this fully revised edition of Destination Simple, Brooke shows us how to harness the power of daily rituals to create a calmer, happier life. Discover how a few changes to the flow of daily life can create long-term, lasting change.

Brooke McAlary produces and hosts The Slow Home, an iTunes #1 Health podcast. In 2016 it celebrated one million downloads internationally. Brooke blogs about decluttering and slow living at slowyourhome.com where she has also connected with over two million people.

Weblink:
http://slowyourhome.com/


More like this