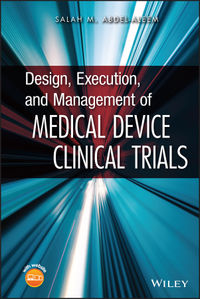 BACK
Design, Execution, and Management of Medical Device Clinical Trials
An essential introduction to conducting the various stages of medical device clinical trials
Clinical research continues to be one of the most vital components of pharmaceutical, biostatistical, and medical studies. Design, Execution, and Management of Medical Device Clinical Trials provides a uniform methodology for conducting and managing clinical trials. Written in a style that is accessible to readers from diverse educational and professional backgrounds, this book provides an in-depth and broad overview for successfully performing clinical tasks and activities.
Throughout the book, practical examples compiled from both the author's and other researchers' previous clinical trial experiences are discussed in a sequential manner as they occur in the study, starting from the development of the clinical protocol and the selection of clinical sites and ending with the completion of the final clinical study report. Next, readers are guided through the development of important clinical documents, including informed consent forms, case report forms, and study logs. A careful review of the Food and Drug Administration (FDA) and International Conference on Harmonisation (ICH) regulations applicable to medical devices is also featured. Additional coverage includes:
Qualification and selection of investigators

Study monitoring visits

Definitions and reporting procedures for adverse events

The use of biostatistical methodology in clinical research, including the use of biostatistics for sample size determination and study endpoints

The roles and responsibilities of all members of a clinical research team
The book concludes with an insightful discussion of special ethical conduct for human research and challenging issues to consider during the design of clinical studies. A glossary lists important clinical and statistical terms used in clinical research, and an extensive reference section provides additional resources for the most up-to-date literature on the topic.
Design, Execution, and Management of Medical Device Clinical Trials is an excellent book for clinical research or epidemiology courses at the upper-undergraduate and graduate levels. It is also an indispensable reference for clinical research associates, clinical managers, clinical scientists, biostatisticians, pharmacologists, and any professional working in the field of clinical research who would like to better understand clinical research practices.
More like this