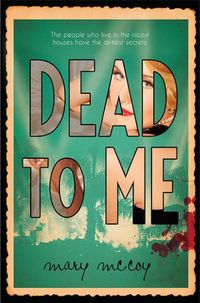 BACK
DEAD TO ME
A YA crime novel set in Forties L.A., DEAD TO ME is filled with period detail that evokes the glamour of Hollywood's Golden Age, as well as its darker side, but it's also the story of a teenage girl trying to come to terms with her broken family and their long-buried secrets. It's the kind of story that would end in the rain if it weren't set in Los Angeles.
Alice was nearly 13 when her big sister, Annie, stormed out of the house and disappeared into the streets of Los Angeles, abandoning a promising acting career - and Alice. Four years later, Annie turns up in MacArthur Park, beaten into a coma and carrying nothing but a photograph with Alice's name and phone number scrawled on the back.

Alice vows to find Annie's attacker, but to do that she'll have to retrace her sister's steps. Where has Annie been for the past three years? Why was she in the park that night? And what was the real reason she ran away from home? Alice's investigation leads her into a world of tough-talking private eyes, psychopathic movie stars, and troubled starlets - and onto the trail of Celeste, a young runaway who's the only witness of a terrible crime. What Celeste knows could shut down a criminal syndicate and put Annie's attacker behind bars. But only if Alice can find her first.

Mary McCoy's Dead to Me is an YA take on hardboiled-detective fiction, but with the kind of compelling family relationships that you don't always see in classic noir. And the author is absolutely in her element here. She's the kind of writer who makes you inspect everything a little closer, putting you on edge in the most delicious, delirious way.

Mary McCoy is the Senior Librarian in Teen'Scape, the young adult department at the Los Angeles Public Library. She's also worked as a hot dog vendor, a hotel maid, a bass player, a fundraiser for public television, and a contributor to On Bunker Hill and the 1947project, where she wrote stories about Los Angeles's notorious past. Mary grew up in western Pennsylvania and holds degrees from Rhodes College and the University of Wisconsin. She currently lives in Los Angeles with her husband.
More like this