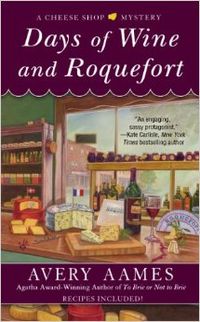 BACK
DAYS OF WINE AND ROQUEFORT
Agatha Award winning series #5 in Cheese Shop Mysteries Murder, like Roquefort, stinks...
Cheese Shop owner Charlotte Bessette's life seems quieter than ever with her fiancé out of town and her cousin Matthew and his children out of the house. But before she can put up her feet and enjoy a glass of chardonnay, Matthew asks her to play host to Noelle Adams, a bright sommelier visiting to help grow business for the local winery.

An affable wine aficionado, Noelle is paired well with the cheese expert Charlotte--but something seems to be troubling the secretive houseguest, and Charlotte's life is upended when she finds the sparkling woman dead. Between Noelle's hotheaded ex, the cagey owners of the winery, its jaded manager, and a wily reporter, Charlotte has her pick of suspects, but she needs to act fast--this is a mystery that only gets more dangerous with age.

RECIPES INCLUDED!

Avery Aames is the nationally bestselling author of A CHEESE SHOP MYSTERY series for Berkley Prime Crime. The first, The Long Quiche Goodbye, won the Agatha Award for "Best First Novel." Avery is the pseudonym for Daryl Wood Gerber. Daryl has a new series coming 2013, THE COOKBOOK NOOK MYSTERIES. Daryl also created the format for the popular sit-com, "Out of this World" and has won awards for her screenplays. Both Avery and Daryl like to read, cook, and garden.
More like this