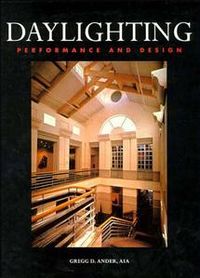 BACK
Daylighting Performance and Design
Daylighting Performance and Design Gregg D. Ander, AIA Gregg D. Ander, AIA, nationally recognized authority on daylighting design, shows you step-by-step how to incorporate natural light with architectural design in Daylighting Performance and Design. You will get a hands-on look at pragmatic yet innovative solutions to creating daylighting as Ander presents case study after case study in a unique design-manual format that includes ample illustrations and white space for sketches and notes. As Chief Architect for Southern California Edison Company, Customer Energy Services, Ander has performed daylighting and thermal analysis on over 300 commercial and industrial buildings. He puts his knowledge to work here in a format that invites use. Committed professionals and armchair advocates of environmentally sensitive architectural design will turn again and again to this authoritative resource. From evaluation to execution, it's a veritable catalog of daylighting strategies, materials, and methods of construction. You'll find a variety of technical methods for predicting daylighting performance augmented with practical tools. One such tool, the visual comfort evaluation form, is invaluable both for analysis and as an aid in understanding the importance of lighting in a real working environment. This concise resource stands alone in the field of daylighting architectural design. Unlike other books on this crucial topic that get bogged down in overly complex detail and laborious language, Daylighting Performance and Design makes theory, calculations, and execution crystal clear with straight-to-the solution examples and uncluttered language. Among the topics covered by this award-winning architect are:
environmentally sensitive design goals
design strategies
integration with electric lighting systems
calculation procedures
and thoroughly articulated case studies
In a world that demands environmentally sensitive architectural design, who can afford to be a step behind in technological advances? Ander keeps you on the cutting edge with ample coverage of all the significant advances in lighting and daylighting technology. You will be a step ahead in saving energy dollars for your clients a bonus to your clients, your practice, and the environment.
More like this