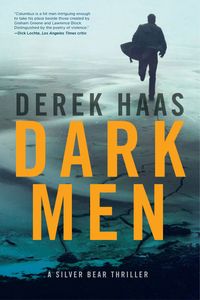 BACK
DARK MEN
The latest thriller featuring the sleek and sinister Silver Bear—from leading Hollywood scriptwriter Derek Haas.
Columbus has retired. or so he thinks. He and his lover, Risina, a mysterious rare-book dealer, have fled to a tiny Italian coastal village where no one knows their names. And yet Columbus has trouble letting go.

His paranoia is justified when, one day, he notices a suspicious man following him, and within days he's back in Chicago trying to figure out why his old fence has been kidnapped and maybe even killed. The ransom note left behind demands Columbus by name.

The Silver Bear must now sever this last link with his dark past if he and Risina are to ever have hope at a new life. yet Risina seems to show a remarkable knack for the kill herself . . . and perhaps there won't be a chance for turning back.

Derek Haas is the author of the novels The Silver Bear, Columbus, and Dark Men, which make up The Assassin Trilogy. Derek co-created "Chicago Fire" and executive produces "Chicago P.D." for NBC. He also co-wrote the screenplays for 3:10 to Yuma, Wanted, and The Double. He lives in Los Angeles with his family.
More like this