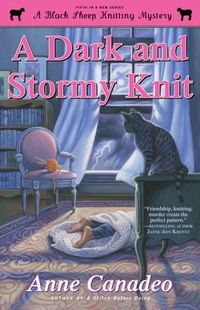 BACK
DARK AND STORMY KNIT
In the sixth novel in the series that is "sure to hook cozy fans" (Publishers Weekly) the Black Sheep Knitters must work to solve the mystery of the disappearance of their friend—and figure out who is trying to kill her before it's too late.
The Black Sheep Knitters are initially amused by the antics of the Knit Kats—a local graffiti group who apply their stitching skills to public protest—like covering the new parking meters along Main Street with knitted hoods that have silly cat faces. This playful act of civil disobedience causes a stir in quiet Plum Harbor. But it's not the first time the Knit Kats have made local news. The group proudly claims responsibility on their website, which features photos of its members—identities concealed by elaborate disguises and mysterious pseudonyms. The Knit Kats mean no harm, they claim, but are dedicated to brightening the landscape and raising awareness. Which no one can dispute…until a dead body turns up, covered in stitches that bear the distinct paw print of Knit Kat mischief. Detectives investigating the crime soon discover that Maggie Messina's assistant, Phoebe, has been auditioning for a spot in the Knit Kat group. When Phoebe is implicated, the Black Sheep try to untangle the clues, determined to clear her name. Are the mysterious Knit Kats capable of deadly mischief? Or, is this the work of some copycat knitter trying to hook the group with a murder rap? With clever detection skills and their own, irrepressible curiosity, Maggie and the knitting crew soon find a tell-tale thread that leads to the guilty party—and the truth about the Knit Kats.
Anne Canadeo lives and knits in Northport, New York. She is the author of the Black Sheep knitting mystery series, and she has also authored the popular Thomas Kinkade series writing as Katherine Spencer.

Weblink:
https://catalog.simonandschuster.com/TitleDetails/TitleDetails.aspx?cid=2741&isbn=9781451644807


More like this