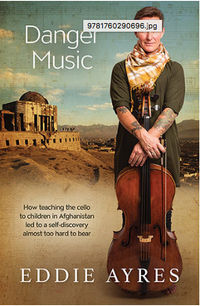 BACK
DANGER MUSIC
From the former ABC Classic FM classicist comes a remarkable story about the power of music and courage to be one's self.
Eddie Ayres has a lifetime of musical experience - from learning the viola as a child in England and playing with the Hong Kong Philharmonic for many years, to learning the cello in his thirties and landing in Australia to present an extremely successful ABC Classic FM morning radio show. But all of this time Eddie was Emma Ayres.

In 2014 Emma was spiralling into a deep depression, driven by anguish about her gender. She quit the radio, travelled, and decided on a surprising path to salvation - teaching music in a war zone. Emma applied for a position at Dr Sarmast's renowned Afghanistan National Institute of Music in Kabul, teaching cello to orphans and street kids.

In Danger Music, Eddie takes us through the bombs and chaos of Kabul, into the lives of the Afghan children who are transported by Bach, Abba, Beethoven and their own exhilarating Afghan music. Alongside these epic experiences, Emma determines to take the final steps to secure her own peace; she becomes the man always there inside - Eddie.

Danger Music, Eddie's second book will be published in September 2017. He is currently writing a children's book which will be published in 2018. Cadence: Travels with Music, published in 2014, was his first book.
More like this